Execution Modes
To support the entire lifecycle of applications within a single, seamless environment, DigitalSuite provides for one-click deployment and automated configuration, spanning development, staging, and production. For this purpose, DigitalSuite distinguishes between three execution modes denoting the isolated environment in which a specific version of the application is running: Test mode, Acceptance mode, and Live mode.

Initial development activities consist of designing, building, and testing the application in one or more projects. The development team completes its work by creating the first version of the application's projects.
For testing the first version of a project, the development team deploys and launches it in Test mode. In this mode, the only user involved is the user who initiates and performs the tests. This user is automatically assigned all the tasks and receives all email notifications, although the emails specify who would receive them in a production environment.
Once the development team is satisfied with the application, it can be rolled out for further testing by a wider audience. Typically, a selection of end users is involved in acceptance testing to ensure that the solution meets the requirements. To proceed with acceptance testing, the application is deployed in Acceptance mode. In this mode, the selected users can test the behavior and performance of the application from an end user's point of view, but without any impact on the production environment and data.
Once the selected end users have approved the application in Acceptance mode, it is ready for productive use. It is deployed in Live mode, which makes it available for genuine business purposes in the production environment.
Ongoing day-to-day changes and enhancements to an application require upgraded or new versions to be released as part of maintenance activities. Developers can continue developing and bug fixing in the project and create new project versions as required for pushing updates to the application to production.
At a Glance
The diagram below shows the interrelations of project versions, resource revisions, and execution modes. Three different versions of the project are deployed to Live, Acceptance, and Test. Each version includes different revisions of the resources. Development continues, creating new resource revisions which are not yet included in project versions.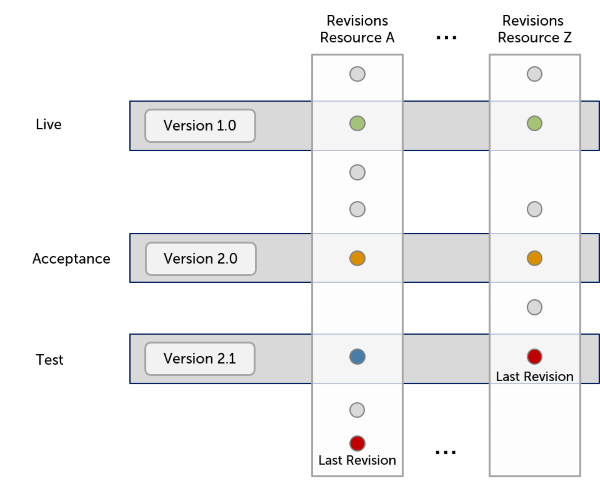 For more details on the configuration and characteristics of projects in the different execution modes, refer to Project Lifecycle.