Developing for Mobile
RunMyProcess facilitates mobility through the use of its mobile app RunMyApp. The amount of effort required to make you applications available for mobile use is minimal.
The User Interface
Web Interfaces follow the principles of Responsive Design, they will therefore respond to the size of the screen to ensure that usability is maximized.
Notification
Push notification can be used to notify users using mobile devices. Whenever you have the option of configuring an email to be sent to a user within your process design, you also have the option of configuring a push notification for mobile users. This occurs for Manual Tasks and Email / Notification Tasks.
Deployment
Applications can be deployed to run in three environments - Web, Tablet and Mobile; or any combination of the three. Once deployed, the application will be available from the user's Enterprise Process Store on the corresponding device. Specifying device availability is achieved by ticking the required devices in the "Publish to the homepage" option on the Web Interface page.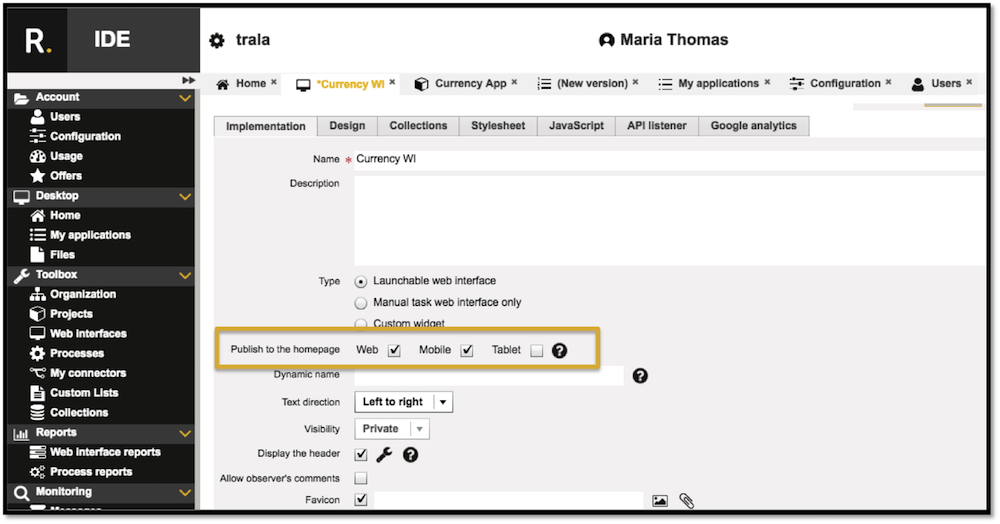 Offline Availability
Provided that the application has been designed to enable offline usage, mobile users can continue to use an application whilst offline. Further details on making your applications available for offline usage can be found here.
Known Limitations
Currently the use of filters is unavailable for reports displayed on mobile devices.